Are you a Marvel fan who mentally and physically prepared for the long haul when you went in to see Avengers: Endgame? Well, buckle up again–because the highly-anticipated and blockbuster-actor-filled epic "Eternals" is going to be another long one for audiences, coming in at 156 minutes long (and there's also two post-credits scenes as a teaser)!  The Marvel Studios movie (which tells the story of immortal Marvel characters via a star-studded cast containing Maleficent's Angelina Jolie, Crazy Rich Asian's Gemma Chan, and Cinderella's dreamy Richard Madden) was directed by Oscar winner Chloé Zhao, and she revealed plenty about the film (which premieres on November 5th) in an interview with Fandango. See their conversation's highlights below, and learn why this Marvel movie is so very long!
Since "Eternals" is bringing in a third part of the Marvel Cinematic Universe's "Phase Four" and many new characters, it makes sense that it would be at least as long as Captain America: Civil War or Avengers: Infinity War. But according to its Oscar-winning director Chloé, "It could be longer!"  She also added that "it's ten characters, the Celestials and 7,000 years. There's a lot going on." According to Zhao, the Eternals are "Earth's original superheroes,", and they "really represent different characteristics of humanity, each of them. I think there's a bit of all of them in each other". These cosmic superheroes "are a new group of characters being introduced into Marvel's ever-expanding cinematic universe, but in a way they're also the MCU's first group of superheroes. Created 7,000 years ago by powerful space gods called Celestials, the group was tasked with hiding out in the shadows and not intervening with the evolution of humanity once they eliminated their greatest enemy, the Deviants. However, following the events of Avengers: Endgame, the Deviants have mysteriously returned, and now the Eternals are back to save humanity yet again". We'll be curious to see how these characters' (who are basically ancient aliens) cosmic energy plays out in the Marvel universe!
While this movie is already being praised for its time-spanning plot (the movie will cover both a story about the immortal beings from the past, presumably thousands of years ago, and one from Marvel's version of the present), it's also being noted for its "diverse ensemble cast and for being the first MCU film helmed by a Best Director Oscar winner". The movie includes big names like Angelina Jolie, Salma Hayek, Gemma Chan, Richard Madden, and even Kit Harington (not pictured) from Game of Thrones!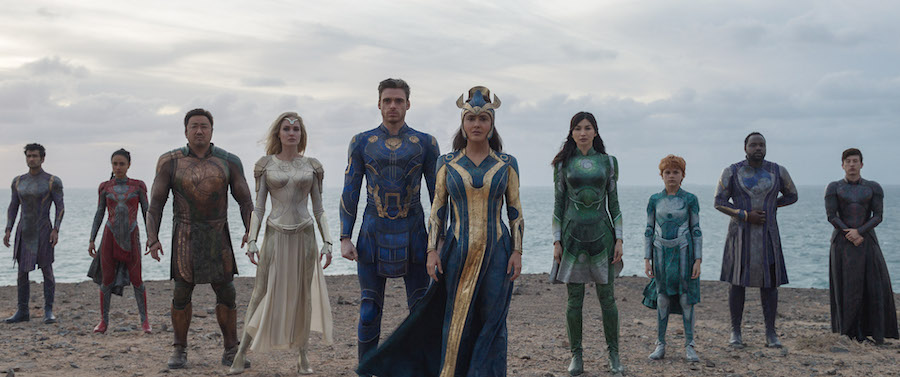 The Eternals. 💫 Experience Marvel Studios' #Eternals, only in theaters November 5. Get tickets NOW: https://t.co/RilTsyHqQJ pic.twitter.com/X9xhLWSMSZ

— Marvel Studios (@MarvelStudios) October 12, 2021
Oscar winner Chloé Zhao made no secret of the fact that being a director is all about trying to bring one's unique art and style to a movie. Judging by the interview, she clearly put a lot of thought into her work, and audiences will want to keep an eye out during the film for her nuanced touches.
Chloe Zhao explained that "the visual experience for this film must feel immersive enough for the audience to believe that these superhero characters have walked the earth for 7,000 years. So, to do that, there's what I like to call an anthropological way of capturing things. The cameras are very grounded, and the movements are very natural. Shots are longer — we use wide angle lenses, and deep focus…it's about giving the audience the space and the time to be able to explore what's within the frame, and therefore come to their own conclusion of the relationship between the characters and the space they're in." She also emphasized that "we definitely linger with the camera, both in action sequences and if it's someone walking through a village or in space with the Celestials. We always try to see how long we can hold before we have to cut". The way that Zhao is using tracking shots, camera work, and even camera types to shape how Marvel fans watch this movie speaks to her Oscar-level skill, and we can definitely sense the heart that she's putting into this lengthy movie! Zhao "wanted it to feel grounded yet fantastical", and trying to get a balance between those two elements was no doubt a factor in why the Marvel Studios film has become so long.
According to Fandango, "Kevin Feige says that the impact Eternals is going to have will redefine the Marvel Cinematic Universe entirely", and Chloé also acknowledged that "by the end of the film, we will have a new understanding of planet Earth's relationship with the cosmos, and also with her own inhabitants…in that sense, it would have a huge effect on the future of the MCU". Even though you might not be up to speed on the Marvel films so far, Zhao says that you can still watch the movie and have a good time: "If you know half the universe disappeared and it came back, that's all you need to know to watch this film. But what happens in this film will have huge implications on the future".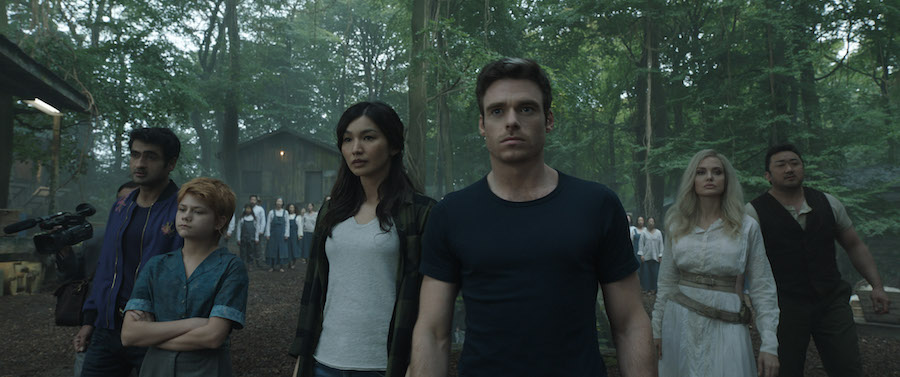 Fandango described the well-rounded cast in the following: "The cast includes Gemma Chan as humankind-loving Sersi, Richard Madden as the all-powerful Ikaris, Kumail Nanjiani as cosmic-powered Kingo, Lia McHugh as the eternally young, old-soul Sprite, Brian Tyree Henry as the intelligent inventor Phastos, Lauren Ridloff as the super-fast Makkari, Barry Keoghan as aloof loner Druig, Don Lee as the powerful Gilgamesh, with Kit Harington as Dane Whitman, with Salma Hayek as the wise and spiritual leader Ajak, and Angelina Jolie as the fierce warrior Thena". With the amount of variety in this cast, there will definitely be some new potential in the Marvel universe!
Are you excited to see this new addition to the Marvel Cinematic Universe? Which has made you more interested in seeing the Marvel movie: cast members like Angelina Jolie and Salma Hayek, the swoon-worthy romance between Gemma Chan and Richard Madden, a sweeping Marvel Studios epic for a plot, or the long runtime? Check out the new Eternals trailer (which is officially the final trailer) below!