As any Disney parks fan knows, going to the parks is a multi-sensory experience.  Part of what makes Disney so magical is the fact that all of your senses are engaged by the experience of being in the theme parks.  The sights, sounds, smells, tastes, and yes, even the touch and feel of the park elements really envelope us in that coveted "Disney bubble."
This holiday season, why not engage all of your senses and Disneyfy your holidays and home for the most magical time of the year?
The Sights
Holiday Decor
The Disney parks get all dolled-up for the holidays, with festive garlands, massive trees, and glittering icicles.  You can do some smaller-scale decor in your own home, starting with adorable Disney yard decorations.  From inflatables to tinsel and wire-based pieces, there's lots of Disney-branded choices at stores like Lowes and Home Depot.
I can't think of a merrier greeting for holiday guests than a giant glowing Mickey! You'll also find outdoor holiday lights and projectors that will shine Disney images on your home.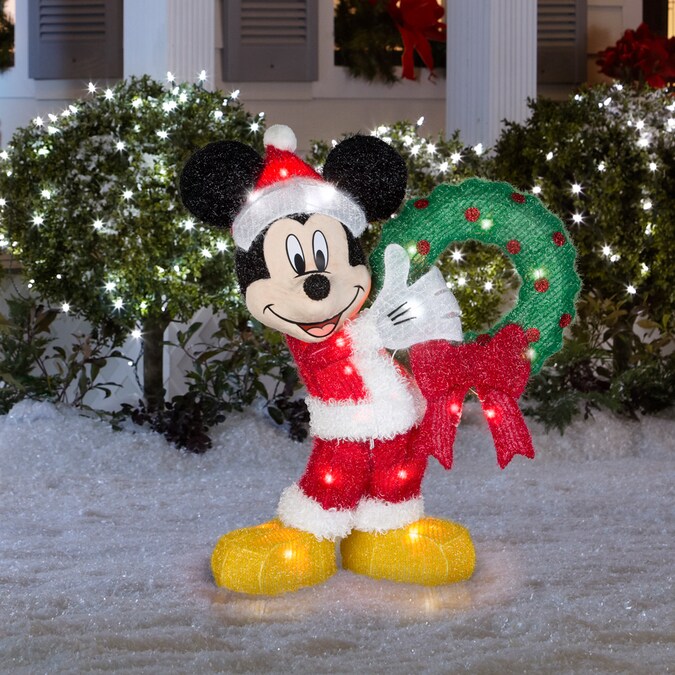 Credit: Lowes
There's no shortage of indoor holiday decor you can score to make your holidays the most-merriest of them all.  Holiday dishes, kitchen towels, wreaths, tabletop decor, figurines- you'll find them all available with Disney characters and themes.
Getting Disney ornaments for your Christmas tree is one of the easiest ways to bring Disney magic home, and they may even double as worthy vacation souvenirs!   I love reliving Disney vacation memories when I decorate our Disney-themed tree! If you're in the Magic Kingdom, be sure to stop into the Ye Olde Christmas Shoppe and check out their selection.
There are tons of great options on shopDisney, and lots of choices available in the parks, too!  Hallmark has Disney licensed ornaments as well.
If you're into crafting, you can find plenty of Disney craft ideas online. If you're feeling extra creative, check out some of the holiday celebrations at the theme park (you can go in person or visit Disney's Holiday Events & Celebrations  ) for some inspiration!
If your style doesn't jive with the over-the-top reds and greens normally associated with Christmas, check out Animal Kingdom for some magical wintery inspiration- we love their nature-inspired decorations and whimsical puppets!
Movies & Television
You'll find plenty of Disney specials and movies to get your family into the holiday spirit this season, especially if you have access to the Disney Channel or Disney+ streaming service.
Some of our favorite festive finds on Disney+ include Prep and Landing, Mickey's Once Upon a Christmas, The Santa Clause, Home Alone, Babes in Toyland, and Lego Star Wars Holiday Special. As you can see, there's a wide variety of choices ranging from classic Christmas movies to modern holiday specials, and this list barely scratches the surface of what's out there!
Related: Spooky Season Favorites on Disney+
The Sounds
Enjoying holiday music is another favorite pastime of Christmas lovers, and you can even find some Disney music to bring the holiday cheer.  Check out your favorite music service, like Spotify, and search for Disney holiday tunes. You'll also find lots of ambient music loops to enjoy on YouTube- here's some great places to start:  The 5 Best Disney Ambient Christmas Music Loops for the Holiday Season.

The Scents
Plenty of Disney fanatics love a good Disney-inspired candle, and what better time than to burn a delicious-smelling candle than around the holidays?  Some holiday-inspired scents that you might love include: "Christmas Parade" and "Christmas Down Main Street" from Magic Candle Company  and "Christmas at the Lodge" from Walter and Rosie Candle Company
Do you have someone on your gifting list who loves scented gifts?  In addition to candles, keep these other fun gift ideas in mind: room sprays, bath bombs, and lotions.
The Tastes
Tasting Disney magic isn't impossible!  One of the most fun things about visiting Walt Disney World, Disneyland, or any Disney park during a holiday celebration is taking in all the special snacks and treats available.
Related: Disneyland Reveals Special Holiday Meals and Drinks
Spiked Holiday DOLE Whips, New Cupcakes, and More at Disney's Polynesian Village Resort for the Holidays
You can replicate favorite Disney recipes in your holiday meal prep by checking out a Disney cookbook.  Or, perhaps you want to mimic a favorite holiday treat in the park!  There are plenty of copycat recipes and suggestions online.  I'm dying to try out some of these cookie recipes shared by the Disney Parks Blog when our holiday baking starts!  Which one would make your mouth water?
If you're up for following one of these recipes, go for it! You can also keep it super simple and grab a Mickey Mouse cookie cutter and use it on your favorite sugar cookie recipe!
Don't forget to serve up your Disneyfied holiday masterpieces on some festive Disney dishes! You may be surprised at what you can find at places like Home Goods and TJ Maxx, and the parks and Shop Disney certainly have a good selection, too!   Another unexpected go-to is Pottery Barn Kids!  They often have a line of holiday dishes for kiddos- we have Halloween, Thanksgiving, and Christmas ones!  Even if you don't have an entire set of holiday dinnerware, mixing in a few pieces can add to the holiday magic.
Related: Disney World's Holiday Sips & Treats Revealed – Inside the Magic
The "Feels"
There are plenty of cozy-feeling Disneyfied things that you can enjoy as part of your holiday magic.  Surely every family loves matching jammies for the holidays, right? Disney has you covered with options for everyone- including the family dog.
Looking for other soft and cozy clothing? Disney even has holiday-themed sweaters, hoodies, and spirit jerseys to help you get your jolly vibes going! If you still have a local Disney store, you're lucky! The rest of us can shop for these comfy clothes on shopDisney.com.
Whether you're looking to update your own holiday decor or you want to find the perfect gift, take a look at Disney holiday throws and pillows, too- they're a quick and festive update for any space!
Are you all decked out already for the holidays?  We'd love to hear how you make your holidays extra magical by mixing in Disney touches!