Looking for a unique and strangely-stylish costume idea for Halloween? We've got just the thing: Cinderella's ugly stepsisters, Anastasia and Drizella from the 2015 live-action version of the story! This Halloween costume is not only easier to get than the original stepsister clothing; it's also more fashionable (in its own way)! All you have to do is look for the brightest, most neon or eye-catching dresses, skirts, or tops and then combine the colors that clash the most. The same goes for your lipstick (if you choose to wear any); the brighter and less-flattering on you, the better! However, there is also a way to create this Halloween look and have an attractive look instead. If you choose a lipstick that works for you and keep the rest of your skin makeup flawless (like so) then you can be a slightly less "ugly" stepsister of Cinderella!
In the actual 2015 Cinderella movie, Sophie McShera (who worked with Lily James on "Downton Abbey" as well, and who also showed off her real singing abilities in this little-known fairy tale gem "Galavant") and Holliday Grainger did wear "some outrageous costumes," according to the makeup designer Naomi Donne. Anastasia wore a bright pink ballgown, so "a mix of MAC Candy Yum Yum and Impassioned" was used for a fuschia lip, while Drizella wore a fiery-orange ballgown that was 'complemented' by the orange "MAC Morange and Peachstock" lipsticks. Before the ball, the girls typically wore "MAC Lipmix in Fuchsia" and "Orange".  The two sisters also sported drawn-on moles, which were always drawn on randomly in new places. To curl their hair, "the old-school method of pin-curling hair with rags" was used. The movie hairstylist "vertically wrapped sections around long strips of material, like you would curl with a curling iron…then tied the ends of the fabric around the pin curls" and let the curls set in overnight.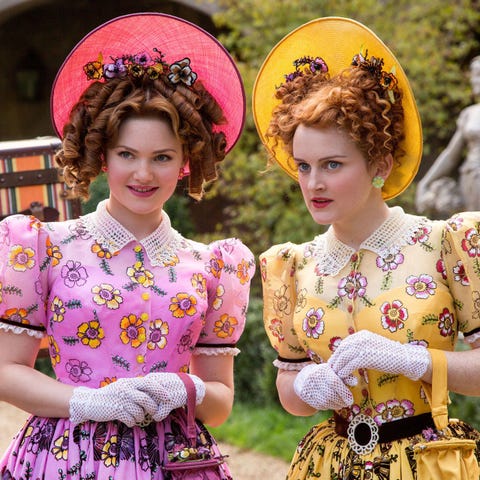 There you have it! This makeup look, hairstyle, and costume is all a low-pressure, low-maintenance option for Halloween–because the less effort you put into it and the more uncoordinated it looks, the better! Don't forget to sing "Sweet Nightingale" throughout the night, and to squabble with your friend a lot if you're dressing up as Cinderella's ugly stepsisters together! Need some more Cinderella costume ideas for your friends? Check out our tutorials for Lady Tremaine and Richard Madden's Prince Charming, as well as Cinderella herself!