If you're a Disney Fanatic who can't make it to D23's live fan event 'Destination D23' (which is apparently "the Biggest Disney Fan Event of the year") then you're in luck! This November — on November 20th and 21st specifically–"Destination D23 Live! Presented by Topps" is being shared live for anyone who wants to attend virtually!
Just announced! How you can stream the BIGGEST Disney fan event of the year: #DestinationD23 Presented by Topps: https://t.co/SxO1i4HAOj pic.twitter.com/3qDzRTxAJV

— Disney D23 (@DisneyD23) November 4, 2021
According to the official announcement, "select panels on Saturday, ­­November 20, and Sunday, November 21, will be available for your enjoyment through our social media channels and D23.com". The planned itinerary for the two-day event has also been shared. On the morning of Saturday, November 20th, there will be a welcome from D23 followed by "Connections: A Look at the Future of Disney Parks, Experiences and Products". Apparently "in this session, DPEP Chairman Josh D'Amaro will share how, even in the most difficult of times, Disney continues to inspire and unite us through connections to beloved people and places… to treasured hopes and dreams… and to the power of magic and endless possibilities". Destination D23 viewers and in-person Guests will "get a first look at some of the newest projects around the world, and of course a little Disney magic along the way". This panel will be followed by "Planes, Trains, and Monorails: Walt Disney World on the Move Presented by Enterprise®", which will feature Imagineers discussing Walt Disney World's unique modes of transportation. The last panel before noon will be "Walt '70s World", which is described as a "pop culture-fueled ride through the first of the Disney decades that defined Walt Disney World".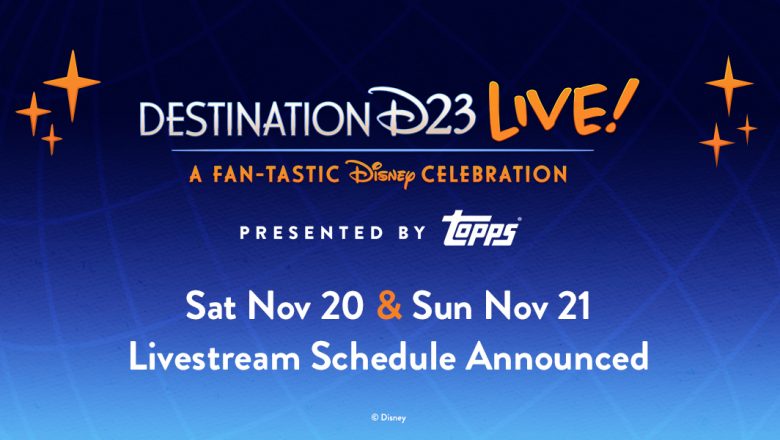 After a 2-hour break, the afternoon will include a discussion of Drawn to Life, which is "Disney's first collaboration with Cirque Du Soleil", and "the years-long process of creating [it], from the team's early Animator's Trust up to their emotions following the show's grand opening". Star Wars fans will rejoice for the next panel, which will be "World Building for Star Wars: Galactic Starcruiser" and which will feature host Ashley Eckstein as she talks to "the creative minds behind the project". Next up is a panel that will focus on Walt Disney World's 50th anniversary called "Magical Entertainment for the Walt Disney World 50th Anniversary Celebration", followed by The Art and Imagery of Walt Disney World (which involves looking back on "50 years of the most gorgeous, stunning, and fascinating artwork and images behind The Most Magical Place on Earth") and "Walt '80s World".
On Sunday November 21st, the panels will kick off with "Disney+ Download at Destination D23″, "a look at what's trending and what's next for the streaming service". Then the focus will shift to the Disney Cruise Line with "Onboard the Disney Wish: Creativity & Inspiration Sets Sail", in which "the new spaces onboard the next generation of ships in the Disney Cruise Line fleet" will be discussed! The last morning panel will be "The Dawn of the Disney World", a history-focused panel about Walt Disney World's beginnings.
After two hours off for lunch, Guests can savor Disney meals virtually with "Delicious Disney: 50 Years of Walt Disney World", which will include "stories and a look behind the creation of the new Delicious Disney Walt Disney World: Recipes & Stories from the Most Magical Place on Earth". Next up is a panel perfect for collectors: "From the Vault: Merchandise Memories of Walt Disney World", and 90's kids will love the next panel, "Walt '90s World". The second to last panel will be "Musical Attractions of Walt Disney World", looking back "THrough 50 years of Walt Disney World music", and the event will be rounded out with the "FAN-Tastic Finale" that will include "performances from Disney's a cappella sensation DCappella, recording artist and star of Broadway's The Lion King Syndee Winters, and some very special surprises"! You can tune in and enjoy these panels on D23.com, Facebook, or YouTube!